Let's face it, the guitar is not an easy instrument to learn!  As with learning any musical instrument, we are not in the world of instant gratification here. And after decades of practice, I'm still learning to play the guitar. It never ends! If it's mastery you're after, I'm of the opinion that at the highest level, playing the guitar is very much a matter of vocation. It's something you were meant to do, or not meant to do. Sometimes it can be hard to motivate yourself to play and particularly in the first year, the desire to quit can be overwhelming. Each player will have their own unique challenges, but everyone who has mastered the guitar has passed through their own rites-of-passage with the instrument and emerged into a place where real music can be created and passed on to others.
If you're looking for inspiration and/or motivation, here are some thoughts and opinions from well-known guitarists on different aspects of playing the world's most popular musical instrument….
Howard Roberts on learning to play…

"Learning to play the guitar is a combination of mental and motor skill acquisition.  And to develop motor skill, repetition is essential… Whenever musicians have trouble executing a passage, they generally tend to blame themselves for not having enough talent.  Actually, all that's wrong is they don't know where their fingers are supposed to go…you should learn the piece in your head before you play it. And when you do play it, play it so slow that there's no possibility of making a mistake."
Al Di Meola on improvising..

"I'm completely detached from any theoretical thoughts when I'm improvising and it rarely comes out the same way twice. To explain what I'm doing, I really have to sit down and figure it out. It's like learning a language: you don't sit down and choose words – it's right there."
Vernon Reid on finding your own style…

"Don't be hard on yourself if you're not Yngwie Malmsteen or Eddie Van Halen. You have to become yourself. It's cool to play an Allan Holdsworth phrase, but it's harder to play one of your own…Live your life. Don't lock yourself in your room 8 hours a day and think of nothing but playing guitar. Learn how to live well, to appreciate flowers. You have to have a human side."
Emily Remler on swing…
"I emphasise to my students, rhythm is the most important thing. It must swing. You can play a million notes and you can play a million chords, but unless it's in the groove, unless it feels good, it's not gonna make it."
Joe Satriani on practising…
"Focus on putting more time into playing things right than playing things wrong. What I mean is that when you practice, don't spend hours and hours pushing yourself into areas where there's constant failure. Spend less time on that part of practicing. Slow it down so that every time you play guitar, there's a larger percentage of time of you actually playing it right, and less playing it wrong. And so you build a foundation of achievement rather than non-achievement. And then do whatever you can do to play with people; one-on-one, three people, four people, whatever it is and get into making music for other people, because that's really what we do. We're musicians. We make music for people to enjoy… But the main thing is that you have to gain experience playing with and for people, that's so important."
The Edge on using effects…
"I've found so many guitar parts from using the echo – it's limitless. The biggest difference between me and other players is that I don't use effects to colour my parts. I create guitar parts using effects. They're a crucial element of what I do so I don't consider them a crutch… They're a part of the art."
Carlos Santana on playing solos…
"If you play a 32-bar solo, the first 8-12 bars should be something that people can whistle. Like a theme: the cow…the cow went home…the cow went home because she wanted to get milked. That's a theme. What you'd call lyrical. I've been accused of being a very melodic, lyrical person. That's ok… The rest of the bars you try to go where Coltrane went – you start speaking with melodies that have fire, like speaking in tongues, language that your mind may not understand as much as your heart will. It's like a deck of cards. You have different hands – this queen goes with this, that ace goes with that. For me, music is a balance of feminine and masculine. Feminine is the melody, masculine is the rhythm. The bed don't matter. Sooner or later they got to get in bed, do something natural and normal. So, in my solos, I try to bring all that in."
Jeff Beck on moderation…
"Over-indulgence in anything is wrong – whether practising 50 hours a day, or eating too much food. There's a balance for me, as there should be with everything and everybody. I've tried to keep it so that I'm able to execute the ideas that come out, but practising too much depresses me. I get good speed, but then I start playing nonsense, because I'm not thinking. A good layoff makes me think a lot. It helps me get both things together – the creativity and the speed."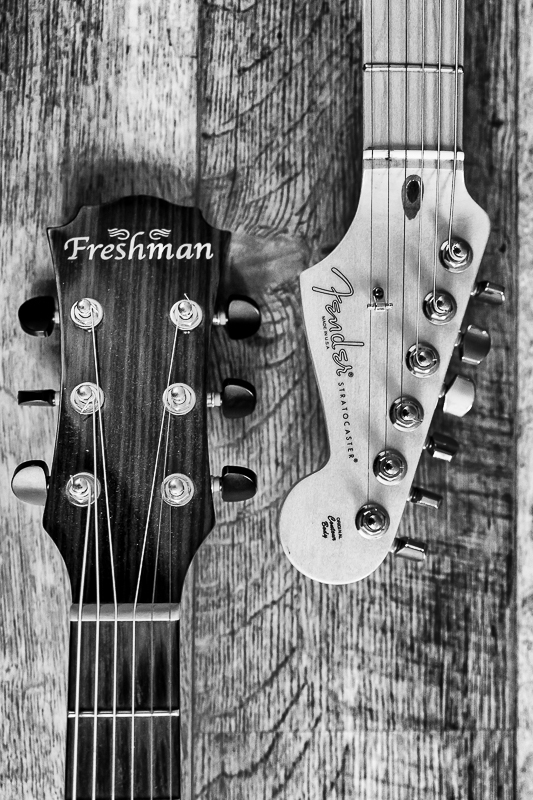 John Lee Hooker on the blues…
"Music has got to have drive – and if you're playing blues, forget about the book, play with your heart and ears. The blues isn't in the book, you've got to feel it. If you don't have feeling and rhythm, you can forget it."
Jennifer Batten on variety and balance…
"Sometimes I have to get away from music entirely. Not that I don't play at all, but I might spend a month on a completely different art form. I got into stained glass really heavily for three years, and then I got into steampunk art. Going to concerts — a lot of players never see anybody else. They're holed up in their rooms."
Eric Johnson on technique…
"Some people might think that my inherent ability put me at the top of the ladder. No. Inherently, I'm not a particularly good player. I've grovelled my way up by learning things, and practicing them a lot. I still practice two to three hours a day, although I'm trying to practice things that are fun for me to play, such as classical music or developing songs. I work on technique inadvertently as I'm working on music."
Andy Summers on having a sense of time…
"I love playing with other guitarists – if they meet certain criteria…  You find out when you sit down with another person what they can do and how whole they are as a musician. For me, they've got to have a high level of musical language, and they've got to be able to really play, and the most important thing  – and the thing I always find is a slight bug bear with most guitarists – is their sense of time and pulse… where they feel the time, and whether they can accompany or not. This is the thing where most guitarists fall down. I'm kind of surprised, but I think most guys work really hard at playing licks and solos, and they don't learn about time, and how to comp, and have an abstract sense of time. The thing I enjoy most when I'm playing with another guitarist is if he's got that abstract sense of time as if there's a pianist accompaning you, then it's a great thing… that's really great to play with. And it's much rarer than you'd think."
B.B. King on learning…
"The beautiful thing about learning is nobody can take it away from you."
John McLaughlin on music theory…

"I practice all the scales. Everyone should know lots of scales. Actually, I feel there are only scales. What is a chord, if not the notes of a scale hooked together? There are several reasons for learning scales: One, the knowledge will unlock the neck for you; you'll learn the instrument; second, if I say I want you to improvise over Gmaj7+5, then go to Eaug9-5 then to Bmaj7-5 – well, if you don't know what those chords are in scale terms you're lost. I used to…  choose chords and analyze them to find out what they were. You can go to school, and maybe get there faster, but I didn't have a school to go to. All I had was chords, and I had to unlock them. It's not all that difficult, but you have to be ready to apply yourself…
Jimi Hendrix on staying power…
"Sometimes you want to give up the guitar, you'll hate the guitar. But if you stick with it, you're gonna be rewarded."
Eric Clapton on buying a guitar…
"I like buying second-hand guitars and old vintage guitars. This may sound superstitious, but you never know who owned a guitar before. That person may have been a master and he may have put something in there. The way the guitar was played and handled seems to stay with the guitar and you inherit that if you're lucky or aware enough to acknowledge it."
Robert Fripp on daily practice…
"Daily practice, and not just going through one's licks, but going through proper exercises is most important, if anything is important… Nothing worthwhile is achieved suddenly, although it seems that way. One practices and goes through situations and there seems to be no improvement. But one day, a certain situation will arise in which one will have to do something as a player or as a person. And one will then find that one is able to meet that situation. Then you know that all the years' hard work and training has not, in fact, been useless. Nothing is, in fact, ever wasted."
Wes Montgomery on hanging in there…
"It takes time to develop every aspect of your technique. A lot of people don't realise the crises you've got to go through. I used to get headaches when I started doing the octave thing, but, over time, I was fine. All it takes is to hear a little improvement in your playing, and that little bit of inspiration is often enough to push you even further."
David Gilmour on melodic delays…
"A bit of delay can smooth out the unpleasant, raw frequencies you get from a fuzz box. I have two units, and I have a different echo setting on both. There are times when I have both running at the same time for certain effects. During solos, I usually try to set the delays to have some rhythmic time signature in common with the tune. I usually set them to a triplet – the notes all intertwine, so it doesn't really matter anyway, but I find that a triplet delay is very melodic."